Achyut Healthcare Limited is engaged in the trading of Pharmaceutical Products. The company has business operations in both domestic and international markets in the countries namely UAE, Kenya, and Nigeria. The company is located in Ahmedabad, Gujarat.
The company involves in the trading of Cenzure, Arpimune, Azathioprine IP, Everomimus, Mycophenolate Mofetil USP, Mycophenolate Sodium USP, Sirolimus, Tacrolimus USP, Infrared thermometer, Ascorbic Acid Coated Vitamin C, Calcium carbonate oyster, Cellulose acetate Phthalate, Chlorthalidone IP, Cross Carmalose Sod IP/USP, DI Basic Calcium Phosphate IP, DI Ethyl Phthlate, Diltiazem Hydrochloride IP, Easy Coat Fc Titanium Dioxide, Escitalopram IP, Escitalopram Oxalate, Favipiravir among many other products.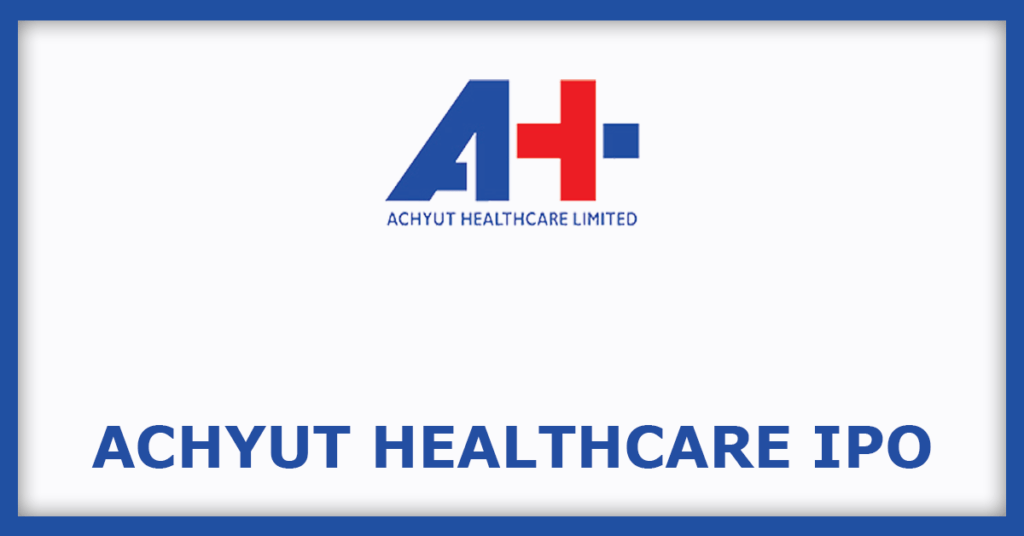 Competitive Strengths
Pan India and Global market presence.
Long-standing relationship with our customers having an exponentially strong rise and reach.
Experienced management team with proven project management and implementation skills.
Multi-location facilities have aided in market penetration and developing a strong presence in India and abroad.
Company Promoters
Mahendra Chatrabhuj Raycha and Akshit Mahendra Raycha are the company promoters.
Company Financials
Particulars
For the year/period ended (Rs in Lakhs)
30-Sep-21
31-Mar-21
31-Mar-20
31-Mar-19
Total Assets
588.68
47.13
27.26
23.73
Total Revenue
272.54
27.43
34.56
66.78
Profit After Tax
12.63
0.74
1.40
(1.46)
Objects Of The Issue
The Company proposes to utilize the funds which are being raised through this Issue towards the following objects:
Funding purchases of machinery and equipment.
General Corporate Purposes.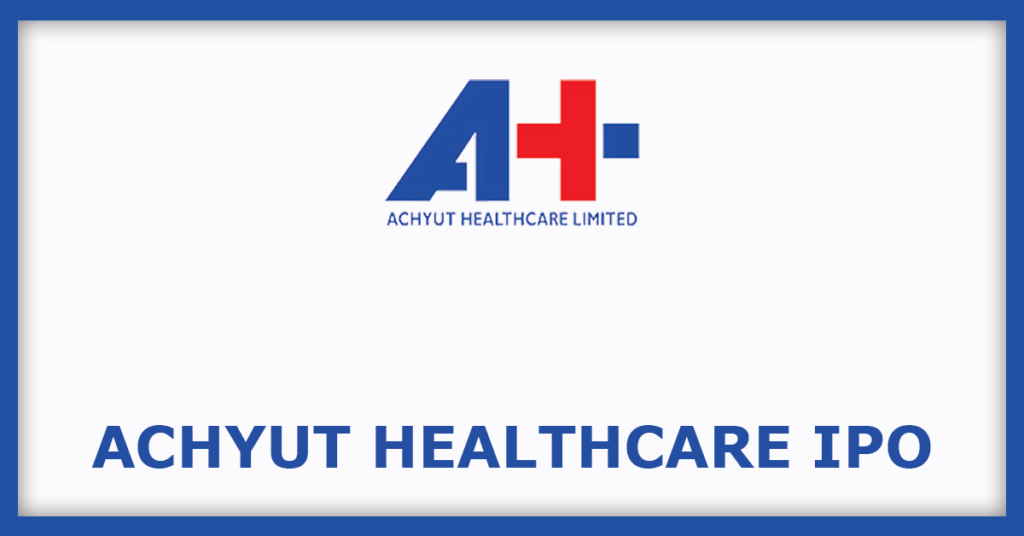 Achyut Healthcare IPO Details
IPO Opening Date
Mar 17, 2022
IPO Closing Date
Mar 22, 2022
Issue Type
Fixed Price Issue IPO
Face Value
₹10 per equity share
IPO Price
₹20 per equity share
Market Lot
6000 Shares
Min Order Quantity
6000 Shares
Listing At
BSE SME
Issue Size
1,800,000 Eq Shares of ₹10
(aggregating up to ₹3.60 Cr)
Fresh Issue
1,800,000 Eq Shares of ₹10
(aggregating up to ₹3.60 Cr)
Retail Shares Offered
50%
NII (HNI) Shares Offered
50%
Achyut Healthcare IPO Lot Size
| Application | Lots | Shares | Amount (Cut-off) |
| --- | --- | --- | --- |
| Minimum | 1 | 6000 | ₹120,000 |
| Maximum | 1 | 6000 | ₹120,000 |
Achyut Healthcare IPO Promoter Holding
| | |
| --- | --- |
| Pre Issue Share Holding | 90.28% |
| Post Issue Share Holding | 66.18% |
Achyut Healthcare IPO Prospectus
Company Contact Information
Achyut Healthcare Limited

610 Colonade, B/H Iscon Temple,
Opposite Iscon, BRTS Bus Stand,
Iscon – Ambali Road, Ahmedabad- 380 058,

Phone: 07948982691
Email: compliance@achyuthealthcare.com
Website: http://achyuthealthcare.com/
Achyut Healthcare IPO Registrar
Achyut Healthcare IPO FAQs
When Achyut Healthcare IPO will open?

The Achyut Healthcare IPO dates are 17 March 2022 To 22 March 2022
What is the lot size of Achyut Healthcare IPO ?

Achyut Healthcare IPO lot size and the minimum order quantity is 6000 Shares.
How to apply for Achyut Healthcare IPO ?

You can apply in Achyut Healthcare IPO online using either UPI or ASBA as payment method. ASBA IPO application is available in the net banking of your bank account. UPI IPO application is offered by brokers who don't offer banking services.
When is Achyut Healthcare IPO listing date?

The Achyut Healthcare IPO listing date is announced. The date of Achyut Healthcare IPO listing is [].