eMudhra are the largest licensed Certifying Authority ("Certifying Authority" or "CA") in India with a market share of 37.9% in the digital signature certificates market space in Financial Year 2021 has grown from 36.5% in Financial Year 2020. eMudhra are engaged in the business of providing Digital Trust Services and Enterprise Solutions to individuals and organizations functioning in various industries.
Under their Enterprise Solutions vertical, they offer a differentiated portfolio of Digital Security and Paperless Transformation Solutions, complementing their Digital Trust Services business, to customers engaged in different industries, thereby making their Company a 'one-stop shop' player in secure digital transformation to provide a wide spectrum of services and solutions from issuance of certificates as a certifying authority to offering identity, authentication and signing solutions.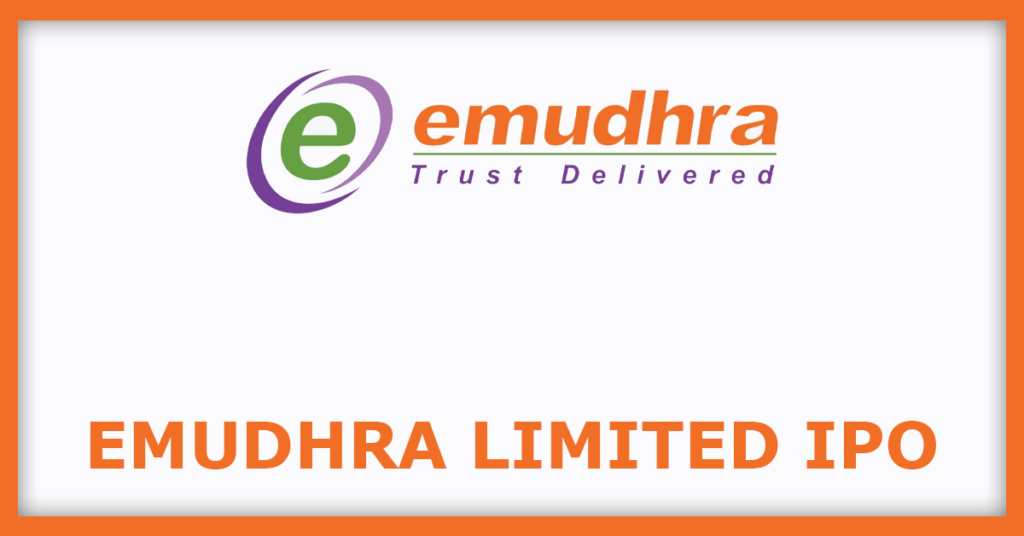 Competitive Strengths
Largest licensed Certifying Authority in India.
They are a one stop shop solution provider in secure digital transformation and are well-positioned to capture the favorable industry dynamics in India and globally.
Technology certifications, accreditations, and membership in international bodies.
Technology backed infrastructure to support quality and security of services and solutions.
Diverse, longstanding, and growing customer base.
Partnerships with leading Indian and global channel partners and enterprise solution partners.
Experienced promoter, board of directors, and senior management team.
eMudhra IPO – Business Strategy
Capitalize on industry opportunities in India and maintain leadership in the Indian Trust Services market and as a 'one-stop shop' player in secure digital transformation
Leveraging their existing data center infrastructure and setting up new data centers in overseas locations
Enhance solution offerings to tap growing needs of digital transformation
Grow presence in overseas markets
Expand share of revenues among existing customers and broaden their partner network and customer base
Company Promoters
Venkatraman Srinivasan
Taarav PTE. Limited
Company Financials
Amount (in INR & Million)
30-Sep-21
31-Mar-21
Mar-20
31-Mar-19
Total Assets
2,382.72
1,919.14
1,587.11
1,195.15
*Total Revenue
934.53
1,324.54
1,167.99
1,016.80
Total Expense
695.25
1,012.74
937.81
781.34
Profit After Tax
199.24
253.59
184.16
174.36
Object Of The Issue
Rs.35 crore is being kept aside for prepayment and repayment of debt availed by the company.
Rs.40.219 crore is to be used for funding the working capital requirements.
Rs.46.634 crore will be used for purchasing equipments and funding some other related costs so that data centers can be set up in India and overseas.
Rs.15.03 crore will be used as expenditure for product development.
Rs.15.27 crore is to be invested back into Emudhra for sales, market development and any future costs.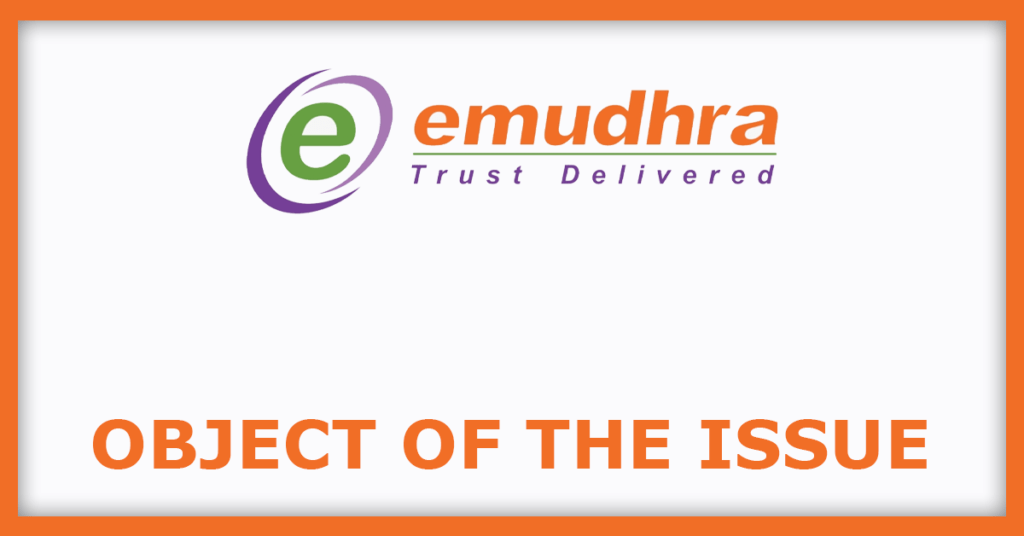 eMudhra IPO Strengths
eMudhra is the largest licensed certifying authority of India with 37.9% market share in the digital signature market and it is also the largest player in the Indian digital trust services market with a share of 17.8% and 19% share in the digital transformation solutions market.
The company is in a position to capture the favourable dynamics of the Indian markets it is a one stop shop for secure digital transformation.
eMudhra is the only Indian company that has been admitted as a member of the European Cloud Signature Consortium and the Certifying Authority/ Browser forum.
The Enterprise Solutions and Digital Trust segments are backed by efficient technological infrastructure including data centers in India and a few being set up abroad as well.
Their portfolio includes renowned customers like Hindalco Industries Ltd, Infosys ltd, Baud Telecom Company, JSW Steel, Larsen and Toubro Infotech Ltd etc.
eMudhra IPO Risks
The success of the whole business depends on the ability of the company to analyze what the customers and the market needs and also research and develop resources in order to enhance the current solutions and also make new solution at a timely basis, keeping up with the needs.
The company plans on expanding to areas where it has not operated in before and thus, the expansion can either be profitable or not.
All the operations of the company is dependent on technology. If the technology platform crashes for some reason it will increase the costs and decrease the revenue to a large extent.
There may be instances where the security measure of the company may be compromised and give way to cyber attacks.
eMudhra IPO – Details
| | |
| --- | --- |
| IPO Opening Date | 20 May 2022 |
| IPO Closing Date | 24 May 2022 |
| Issue Type | Book Built Issue IPO |
| Issue Size | ₹412.79 Crore |
| Face Value | ₹5 per equity share |
| IPO Price | ₹243 To ₹256 |
| Market Lot | 58 Shares (1 Lot) |
| Min Order | 58 Shares |
| Listing At | BSE, NSE |
| Register | LinkInTime India Private Limited |
| QIB Shares Offered | Not more than 50% of the Net Offer |
| Retail Shares Offered | Not less than 35% of the Net Offer |
| NII (HNI) Shares Offered | Not less than 15% of the Net Offer |
eMudhra IPO – Date Schedule
| | |
| --- | --- |
| IPO Open Date | 20 May 2022 |
| IPO Close Date | 24 May 2022 |
| Basis of Allotment Date | 27 May 2022 |
| Initiation of Refunds | 30 May 2022 |
| Credit of Shares to Demat Account | 31 May 2022 |
| IPO Listing Date | 01 June 2022 |
eMudhra IPO – Lots Size & Price
| | | | |
| --- | --- | --- | --- |
| Application | Lots | Shares | Amount ( Cut-Off) |
| Minimum | 1 | 58 | 14,848 |
| Maximum | 13 | 754 | 1,93,024 |
Promoter Holding
| | |
| --- | --- |
| Pre Issue Share Holding | 69.49% |
| Post Issue Share Holding | |
eMudhra IPO Prospectus
Company Contact Information
eMudhra Limited

Sai Arcade, 3rd Floor,
No. 56 Outer Ring Road,
Devarabeesanahalli,
Bengaluru 560103, Karnataka

Tel: +91 80-4227 5300
E-mail: companysecretary@emudhra.com
Website: https://www.emudhra.com/
eMudhra IPO Registrar
Link Intime India Private Limited

C 101, 247 Park
L.B.S. Marg, Vikhroli (West),
Mumbai 400 083, Maharashtra, India

Tel: +91 22 4918 6200
E-mail: emudhra.ipo@linkintime.co.in
Website: www.linkintime.co.in
eMudhra IPO Lead Manager(s)
1. IIFL Securities Limited
2. YES Securities (India) Limited
3. Indorient Financial Services Limited
eMudhra IPO FAQs
When eMudhra IPO will open?

The eMudhra IPO dates are 20 May 2022 To 24 May 2022.
What is the lot size of eMudhra IPO

eMudhra IPO lot size is 58 Shares and total amount is ₹14,848.
How to apply for eMudhra IPO?

You can apply in eMudhra IPO online using either UPI or ASBA as payment method. ASBA IPO application is available in the net banking of your bank account. UPI IPO application is offered by brokers who don't offer banking services.
When is eMudhra IPO listing date?

The eMudhra IPO listing date is announced. The date of eMudhra IPO listing is [01 June 2022].