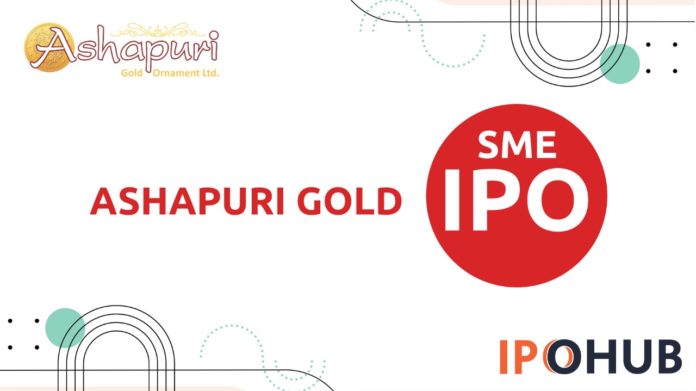 Ashapuri Gold Ornament Limited is involved in the business of trading heavily in gold jewelry. The Company's product portfolio includes Ring, Ring, Bangles, Earring, Anklets, Necklace, Pendant etc. It sells antique, traditional, modern and wedding designs that incorporate various customer components.
The company has a showroom of 2945 sq. M. Ahmedabad. The company only sells certified jewelry in Hallmark and those are made by Job's work in Ahmedabad and Rajkot.
Ashapuri has also entered into a partnership with Blue-Onxy Lifestyle which owns the Branded Readymade Garments business. They also plan to open more chain showroom chains for Readymade clothing for some time in various cities across Gujarat.
Ashapuri Gold Ornament Ltd. It has been regarded as one of the leading manufacturers and sellers of gold jewelry. For 20 years this remarkable voyage has helped jewelers from major cities to many parts of the city and the unparalleled quality of jewelry that is its promise.
Their production technology, large collection of designs, and high level of craftsmanship made it possible for them to become a league of jewelry suppliers. We are committed to providing the best shopping experience for all jewelers in india and abroad.
Their beautiful collection is still distributed in Indian markets. They welcome Indian and international jewelry to be part of India's largest jewelry hub.
It currently employs 9 employees on its payroll.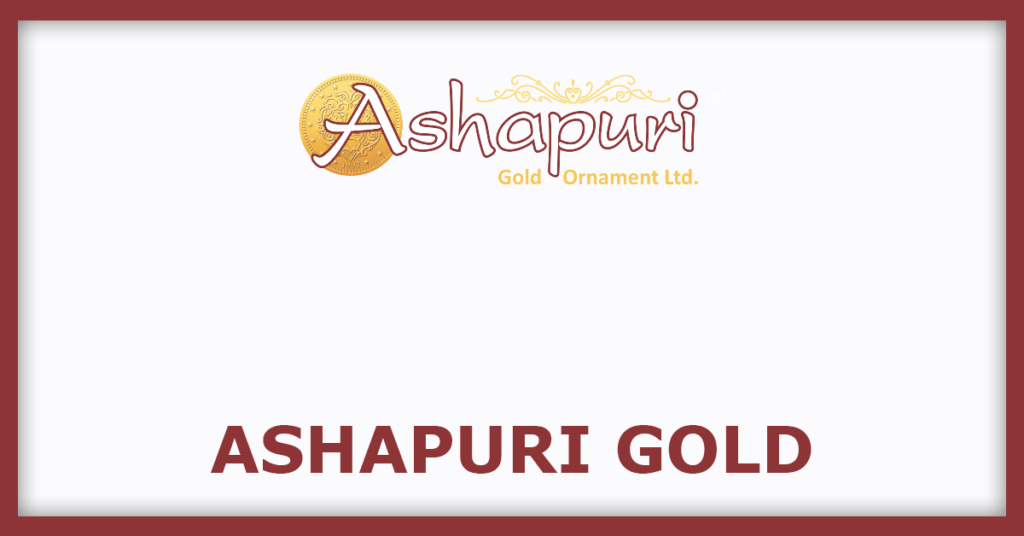 Competitive Strengths
More than 10 years of experience
Rooms Showrooms are the main venues in Ahmedabad
A variety of products
Unique and ancient designs
Company Promoters
The Individual Promoters of the Company are:
1. Mr. Saremal Soni
2. Mr. Dinesh Soni
3. Mr.Jitendra Soni
Company Financials
Particulars
For the year/period ended (in Rs. Lakhs)
30-Nov-18
31-Mar-18
31-Mar-17
31-Mar-16
Total Assets
1,609.52
1,454.00
1,557.90
1,684.27
Total Revenue
4,951.27
4,692.92
3,729.42
5,562.73
Profit After Tax
31.85
7.30
3.97
6.40
Object Of The Issue
The objectives of the problem are:
Establishment of a jewelery production unit;
Investment in a partnership;
To meet operating requirements; and
Common objectives of cooperation.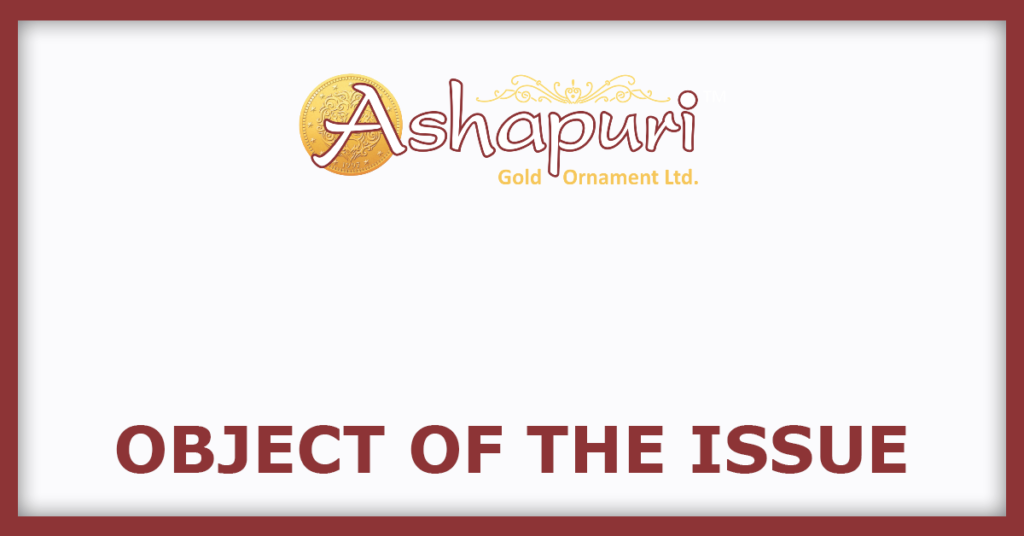 Ashapuri Gold IPO Details
IPO Opening Date
Mar 13, 2019
IPO Closing Date
Mar 18, 2019
Issue Type
Fixed Price Issue IPO
Face Value
₹10 per equity share
IPO Price
₹51 per equity share
Market Lot
2000 Shares
Min Order Quantity
2000 Shares
Listing At
BSE SME
Issue Size
5,750,000 Eq Shares of ₹10
(aggregating up to ₹29.33 Cr)
Ashapuri Gold IPO – Schedule
| | |
| --- | --- |
| IPO Open Date | Mar 13, 2019 |
| IPO Close Date | Mar 18, 2019 |
| Basis of Allotment Date | Mar 22, 2019 |
| Initiation of Refunds | Mar 25, 2019 |
| Credit of Shares to Demat Account | Mar 26, 2019 |
| IPO Listing Date | Mar 27, 2019 |
Ashapuri Gold IPO Lot Size
| Application | Lots | Shares | Amount (Cut-off) |
| --- | --- | --- | --- |
| Minimum | 1 | 2000 | ₹102,000 |
| Maximum | 1 | 2000 | ₹102,000 |
Ashapuri Gold IPO: How To Apply
Promoters play a very important role in raising much-needed business revenue.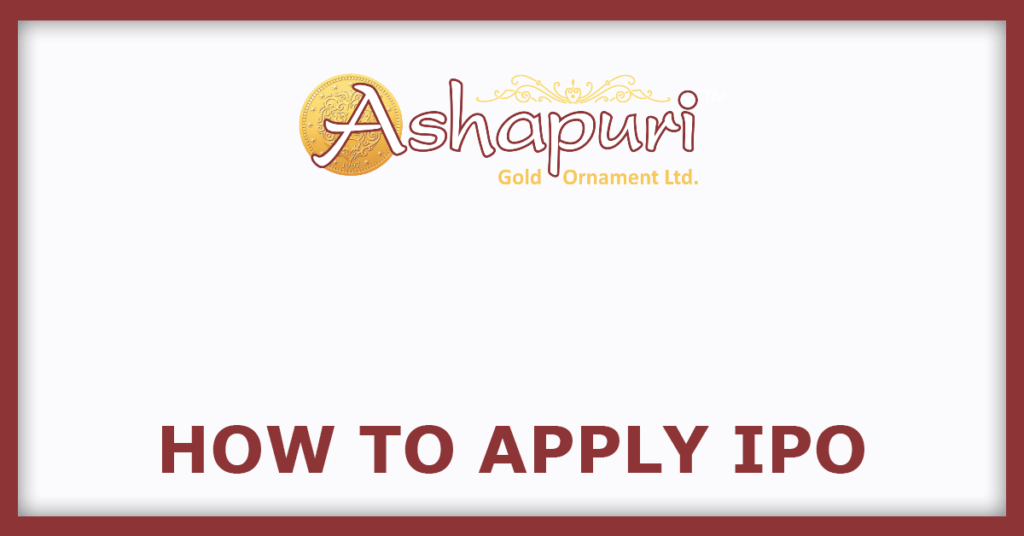 Apply For Ashapuri Gold IPO Through ASBA
First, you should know what ASBA is. ASBA stands for Restricted Application Support. It is an application by the bank to apply for an IPO.
You apply with ASBA through the bank because initially, the bank covers the cost of purchasing the IPO. This amount is deducted from your account only after receiving IPO share shares in your Demat account.
All the major banks in the country are expanding the ASBA center. There are about 30 banks on the list, some of which are IDBI Bank Limited, Citi Bank, Punjab National Bank, etc.
The center may be expanded once they have been authorized to do so. These banks block the corresponding amount until the IPO allocation process is finalized.
Now, most of you are probably thinking about how to use the Ashapuri Gold IPO with ASBA. The process can be completed online or offline for your convenience.
Apart from this, you can also bid for an Ashapuri Gold IPO through your stockbroker's online portal (such as Zerodha, Edelweiss, Motilal Oswal, etc.)
Company Contact Information
Ashapuri Gold Ornament Limited
109 to 112A, 1st Floor Supermall,
Nr. Lal Bunglow, C.G.Road,
Ahmedabad- 380009

Phone: 079-26462171
Email: info@ashapurigold.com
Website: http://www.ashapurigold.com
What is SME IPO?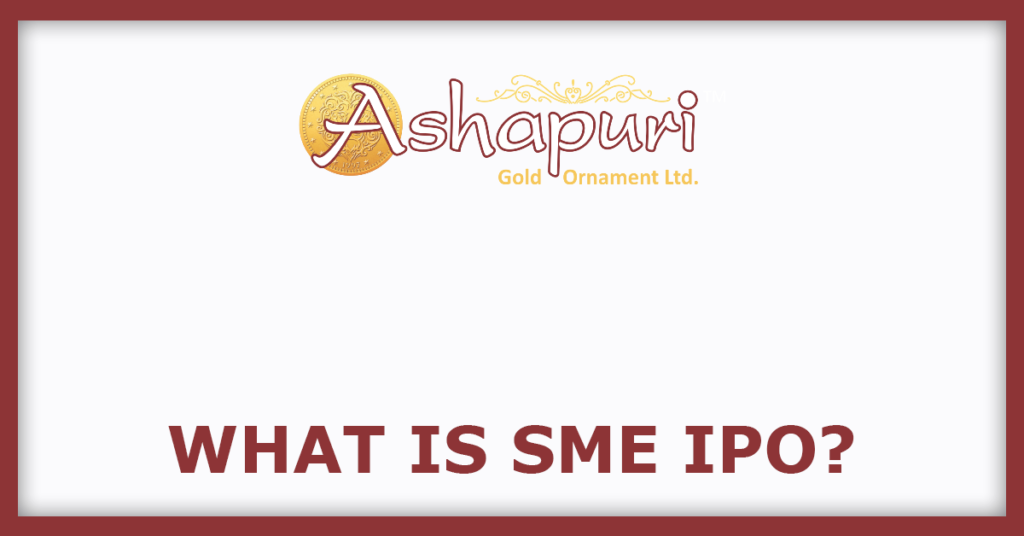 Companies with minimum post-issue capital of Rs 1 crore and maximum Rs 25 crores are eligible for SME IPO. BSE SME and NSE Emerge platform allows Small and medium enterprises (SME) to raise funds and get listed at the exchange through an SME IPO.
| Basis | SME IPO |
| --- | --- |
| Post-issue paid up capital | Minimum post issue capital of Rs 1 crore and maximum Rs 25 crore |
| Minimum Allotees in IPO | Minimum number of allotees should be 50 |
| IPO Underwriting | Mandatory (100% underwritten with Merchant Banker underwriting 15%) |
| Track Record | Relaxed norms |
| Offer Document Vetting | By Stock Exchange |
| IPO Application Size | Rs 1,00,000 |
| IPO Timeframe | 3 to 4 months |
| Reporting Requirement | Half yearly |