Established in 1999 as a joint venture between Adani Group and Wilmar Group, Adani Wilmar is a food company FMCG that provides a wide range of kitchen products to Indian consumers, including edible oil, wheat flour, rice, pulses and sugar. The company also supplies a variety of industrial essentials, including oleochemicals, castor oil and its derivatives, and oil-based cakes. The company's products are offered under a variety of products at all wide prices and are offered to different customer groups.
The company's product portfolio is organized into (i) edible oil, (ii) integrated food and FMCG, and (iii) industry value. "Fortune", the company's leading brand, is India's largest edible oil producer. Recently the company has focused on value-added products and introduced products such as edible oil products, healthy rice bran oil, processed foods, soy chunks ready for cooking, and khichdi, etc. in line with this. The company has the potential to receive raw materials and has been India's largest importer of crude oil edible oil since March 31, 2020.
As of the date of this Draft Red Herring Prospectus, the company operates 22 plants located in ten locations in India, with 10 crushing units and 18 cleaning facilities. The company refinery in Mundra is one of India's largest refineries with a capacity of 5,000 MT per day. In addition to 22 plants Adani Wilmar, has also used 28 rental units from March 31, 2021, to acquire more production capacity. The company's distributors are located in 28 provinces and 8 union areas across India, with more than 1.6 million retail outlets.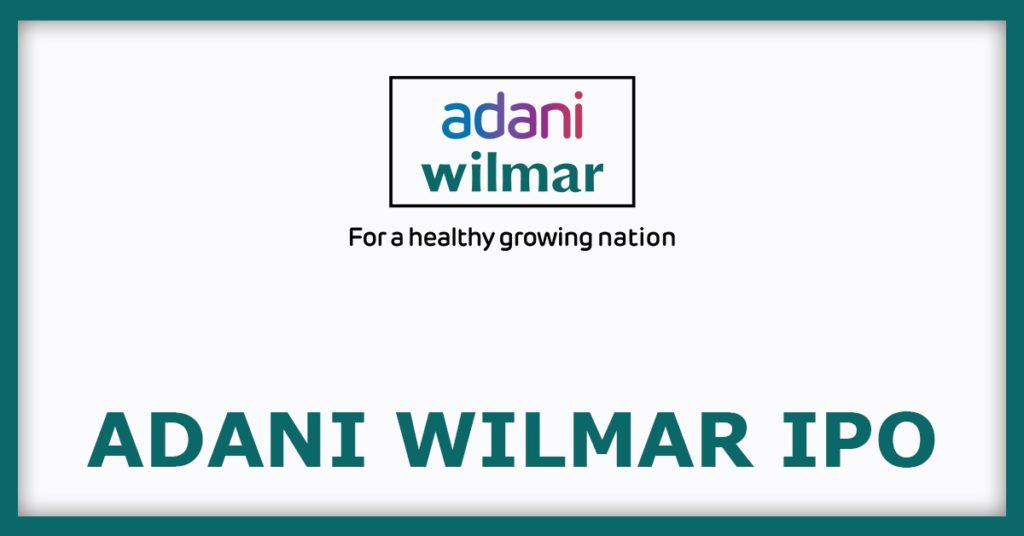 Competitive Strengths
Diversified product portfolio with leading brands catering to most daily essentials of an Indian kitchen.
Strong brand recall and broad customer reach.
Leadership in branded edible oil and packaged food business in India.
One of the largest basic oleochemical manufacturers of India.
Strong raw material sourcing capabilities from top global suppliers.
An integrated business model with well-established operational infrastructure and strong manufacturing capabilities.
Pan-India distribution network supported by a robust distribution infrastructure.
Focus on environmental and social sustainability.
Professional management and experienced board.
Company Promoters
Adani Enterprises Limited
Adani Commodities LLP
Lence pte Limited
Company Financials
Particulars
For the year/period ended (₹ in Millions)
31-Mar-21
31-Mar-20
31-Mar-19
Total Assets
133,266.40
117,859.17
116,028.71
Total Revenue
371,956.58
297,669.86
289,196.81
Profit After Tax
7,276.49
4,608.72
3,755.21
Objects Of The Issue
Funding capital expenditure for expansion of existing manufacturing facilities and developing new manufacturing facilities ("Capital Expenditure");
Repayment/prepayment of borrowings;
Funding strategic acquisitions and investments; and
General corporate purposes.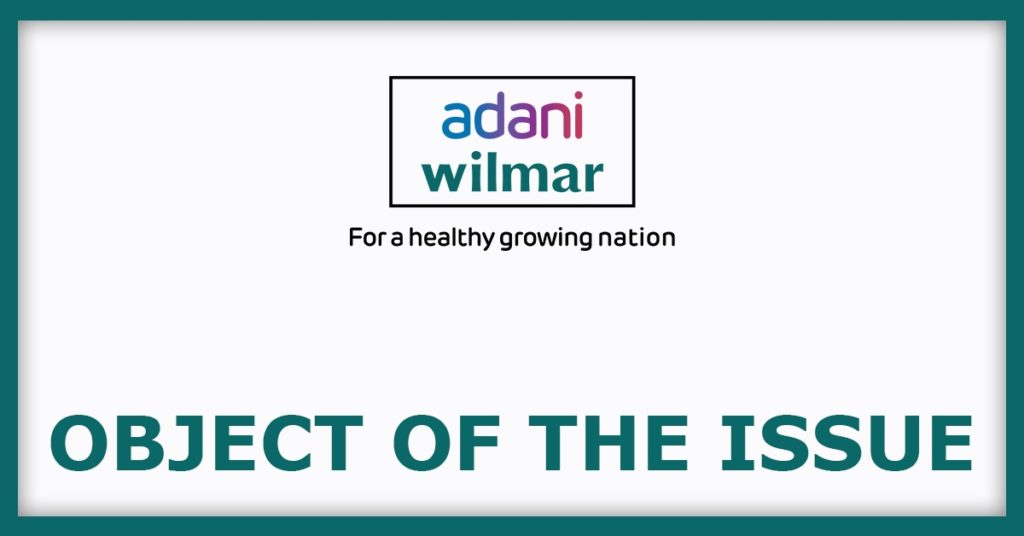 Adani Wilmar IPO Peer Comparison
| | | |
| --- | --- | --- |
| S. No. | Company Name | PE |
| 1 | Hindustan Unilever Limited | 68.57 |
| 2 | Britannia Industries Limited | 44.23 |
| 3 | Tata Consumer Products Limited | 81.32 |
| 4 | Dabur India Limited | 62.90 |
| 5 | Marico Limited | 60.21 |
| 6 | Nestle India Limited | 81.96 |
Adani Wilmar IPO Risk
Unfavorable domestic and worldwide weather patterns could have a negative impact on their operations.
They have a wide range of items, especially in three business areas, and their incapacity to manage their diverse activities could harm their business.
Their products are commodities, and their prices are vulnerable to volatility, which can have an impact on overall profitability.
Exchange rate fluctuations between the Indian rupee and foreign currencies may have a negative impact on their business.
Their edible oil business unit generates a large amount of their revenue, and any decrease in demand or production of such goods could have a negative impact on their company.
Other Threats
Import restrictions imposed by other countries on their products could have a significant negative impact on their business.
They rely substantially on our existing brands, and their dilution could have a negative impact on their business.
The COVID-19 pandemic has had an impact on their market, and it may continue to do so.
A slowdown or shutdown in their production activities, as well as underutilization of our production unit, could harm their business.
Their incapacity to adequately manage their expansion could have a negative impact on their company.
Certain legal processes are pending against their company, its directors, promoters, and subsidiaries. Any negative outcome in these proceedings could have a negative impact on their company.
Adani Wilmar IPO – Tentative Details
| | |
| --- | --- |
| IPO Opening Date | October 2021 |
| IPO Closing Date | October 2021 |
| Issue Type | Book Built Issue IPO |
| Issue Size | Rs 4500 Crore |
| Face Value | ₹1 per equity share |
| IPO Price | [] To [] Per Equity Share |
| Market Lot | – |
| Min Order Quantity | – |
| Listing At | BSE, NSE |
| Total Share Issue | – |
| Register | LinkInTime India Private Ltd |
Adani Wilmar IPO – Tentative Timetable
| | |
| --- | --- |
| IPO Open Date | October 2021 |
| IPO Close Date | October 2021 |
| Basis of Allotment Date | October 2021 |
| Initiation of Refunds | October 2021 |
| Credit of Shares to Demat Account | October 2021 |
| IPO Listing Date | October 2021 |
Adani Wilmar IPO – Tentative Lots Size & Price
| | | | |
| --- | --- | --- | --- |
| Application | Lots | Shares | Amount ( Cut-Off) |
| Minimum | – | – | – |
| Maximum | – | – | – |
Promoters Holding
Pre Issue Share Holding
74.92%
Post Issue Share Holding
Adani Wilmar IPO Prospectus
Company Contact Information
Adani Wilmar Limited

Fortune House,
Near Navrangpura Railway Crossing,
Ahmedabad 380009, Gujarat, India

Phone: +91-79-26455848
Email: investor.relations@adaniwilmar.in
Website: https://www.adaniwilmar.com/
Adani Wilmar IPO Registrar
Link Intime India Private Limited

C-101, 1st Floor, 247 Park
Lal Bahadur Shastri Marg
Vikhroli (West)
Mumbai 400 083, Maharashtra

Telephone: +91 22 4918 6200
E-mail: adaniwilmar.ipo@linkintime.co.in
Website: www.linkintime.co.in
Adani Wilmar IPO Lead Manager(s)
1. Kotak Mahindra Capital Company Limited
2. J.P. Morgan India Private Limited
3. BofA Securities India Limited
4. ICICI Securities Limited
5. Credit Suisse Securities (India) Private Limited
6. HDFC Bank
7. BNP Paribas
Adani Wilmar IPO FAQs
When Adani Wilmar IPO will open?

The Adani Wilmar IPO Tentative dates are October 2021 To October 2021.
What is the lot size of Adani Wilmar IPO?

Adani Wilmar IPO lot size and the minimum order quantity is [].
How to apply for Adani Wilmar IPO?

You can apply in Adani Wilmar IPO online using either UPI or ASBA as payment method. ASBA IPO application is available in the net banking of your bank account. UPI IPO application is offered by brokers who don't offer banking services.
When is Adani Wilmar IPO listing date?

The Adani Wilmar IPO listing date is not announced. The date of Adani Wilmar IPO listing is [].