Launched in 2016, Kotyark Industries is involved in the production of Biofuels. The company focuses on green renewable energy and the sustainable development of renewable biofuels (Biofuels) through the adoption of environmentally friendly technologies for public and private transport vehicles and various equipment and Gen Sets.
The company's products are categorized into:
Bio-Diesel
C9
Carbon Black Feedstock (CBFS)
Liquid Paraffin Oil
Dewatering Fluid
Kotyark Industries is a licensed manufacturer of Biodiesel and has received a Letter of Intent from the Biofuel Authority, Rural Development, Panchayat Raj Department, and the Rajasthan Government. The company has also received approval from the Government of Rajasthan for establishing a Mobile Retail Outlet for the sale of Bio-Diesel and has entered into a Mobile Retail Outlet (MRO) agreement with various parties. The company has a production capacity of 100,000 KL bio-diesel per month from Multi Feedstock in Rajasthan, India.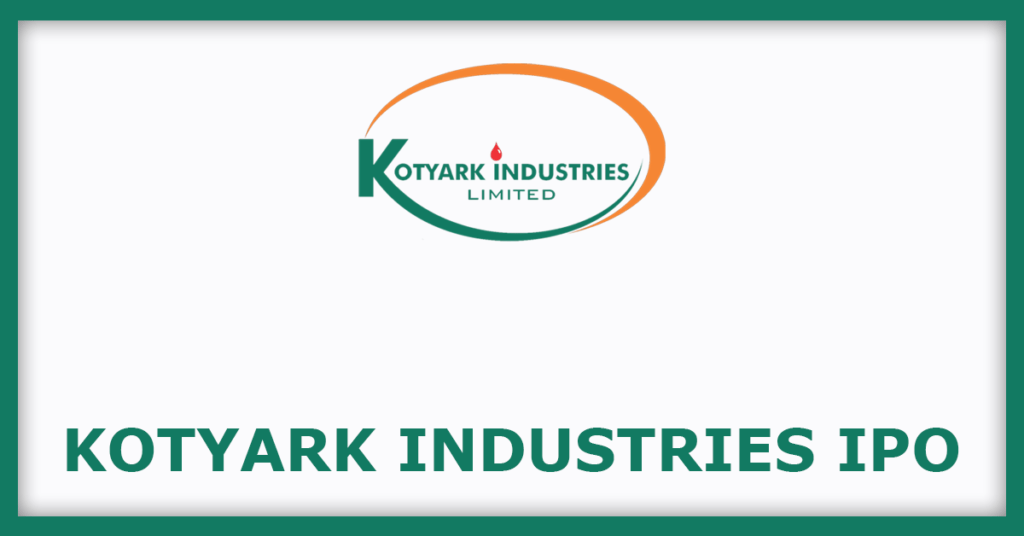 Competitive Strengths
Long-standing relationships and multi-layered engagement with customers.
Experienced promoter and management
Adherence to timely order fulfillment and high-cost efficiency
Scalable Business Model
Strong relationship with suppliers
Environmental-friendly products
Quality Assurance and Standards
Company Promoters
Mr. Gaurang Rameshchandra Shah is the Promoter of our Company.
Company Financials
Particulars
For the year/period ended (₹ in Millions)
31-Jul-21
31-Mar-21
31-Mar-20
31-Mar-19
Total Assets
174.42
180.20
191.25
84.83
Total Revenue
281.05
652.90
257.81
375.67
Profit After Tax
5.16
10.44
4.85
5.77
Objects Of The Issue
To meet working capital requirement.
General Corporate Purpose.
To Meet the Issue Expenses.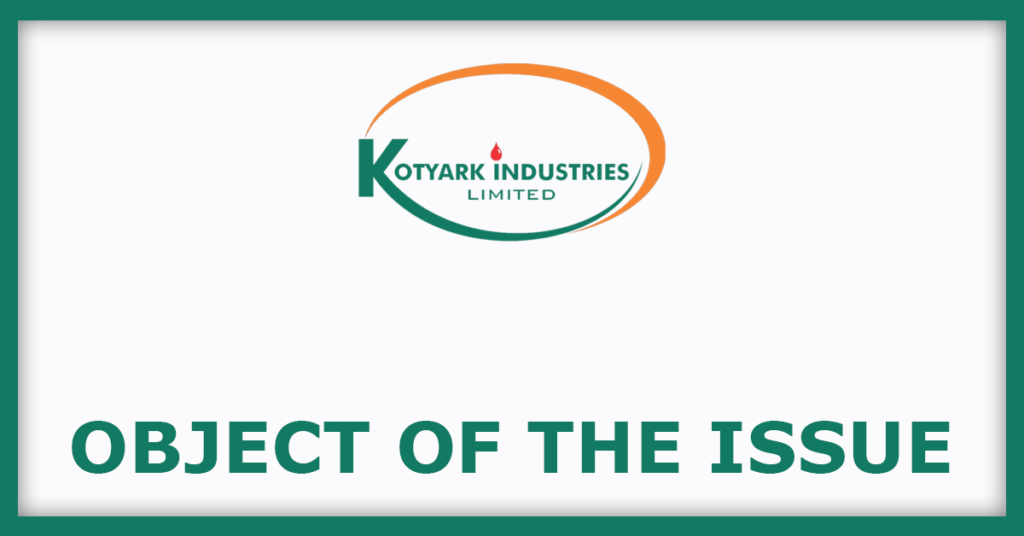 Kotyark Industries IPO Details
IPO Opening Date
Oct 21, 2021
IPO Closing Date
Oct 25, 2021
Issue Type
Fixed Price Issue IPO
Face Value
₹10 per equity share
IPO Price
₹51 per equity share
Market Lot
2000 Shares
Min Order Quantity
2000 Shares
Listing At
NSE SME
Issue Size
2,208,000 Eq Shares of ₹10
(aggregating up to ₹11.26 Cr)
Kotyark Industries IPO Lot Size
| Application | Lots | Shares | Amount (Cut-off) |
| --- | --- | --- | --- |
| Minimum | 1 | 2000 | ₹102,000 |
| Maximum | 1 | 2000 | ₹102,000 |
Kotyark Industries IPO Promoter Holding
| | |
| --- | --- |
| Pre Issue Share Holding | 98.51% |
| Post Issue Share Holding | 72.22% |
Company Contact Information
Kotyark Industries Limited

A-3, 2nd Floor, Shree Ganesh Nagar,
Housing Society, Ramakaka Temple Road, Chhani,
Vadodara-391740, Gujarat, India

Phone: 0265-2760345
Email: info@kotyark.com
Website: http://kotyark.com/
Kotyark Industries IPO Registrar
Kotyark Industries IPO FAQs
When Kotyark Industries IPO will open?

The Kotyark Industries IPO dates are 21 Oct 2021 To 25 Oct 2021.
What is the lot size of Kotyark Industries IPO?

Kotyark Industries IPO lot size and the minimum order quantity is 2000 Shares.
How to apply for Kotyark Industries IPO?

You can apply in Kotyark Industries IPO online using either UPI or ASBA as payment method. ASBA IPO application is available in the net banking of your bank account. UPI IPO application is offered by brokers who don't offer banking services.
When is Kotyark Industries IPO listing date?

The Kotyark Industries IPO listing date is announced. The date of Kotyark Industries IPO listing is [].