Incorporated in 1995, Mrs. Bectors Food Specialities Ltd is one of the leading companies in the premium bakery segment and premium and mid-premium biscuit segment in North India.
The company's product portfolio mainly consists of two categories of products; Biscuits (cookies, creams, crackers, digestive, etc.) and Bakery products (bread, buns, pizza bases, cakes, etc.).
Mrs. Bectors manufactures and sells biscuits under its brand name "Mrs. Bector's Cremica" whereas bakery products are manufactured under the brand name of "English Oven" and offered in the premium market segments such as Delhi NCR, Mumbai, and Bengaluru.
As of June 30, 2020, its bakery segment has a total of 96 products and the Biscuits segment has a total of 384 items.
All of its products are manufactured in-house across 6 strategically located manufacturing units in 5 different cities i.e. Maharashtra, Karnataka, UP, Himachal Pradesh, and Punjab.
The company has a very strong distribution network of 154 super-stockists and 644 distributors supplying products through 458,000 retail outlets and 3,594 preferred outlets.
It sells its products to 23 states in India and also exports its products under its own brand name and third-party private labels to 64 countries all over the world.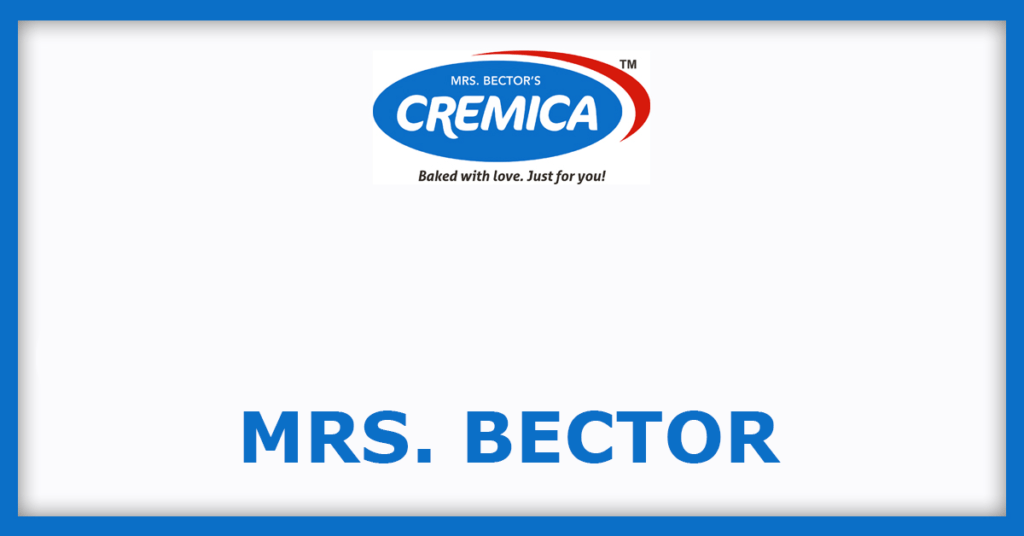 Competitive Strengths
A leader in biscuits and bakery segments in North India.
Well-diversified product portfolio.
Major food certifications i.e. BRC, USFDA, and FSSC.
Leading biscuits exporter to 64 countries.
Modern production process.
Strong sales and distribution network.
Company Promoters
Mr. Anoop Bector is the promoter of the company.
Company Financials
Particulars
For the year/period ended (₹ in million)
30-Jun-20
31-Mar-20
31-Mar-19
31-Mar-18
Total Assets
5,947.06
5,657.15
5,770.44
5,110.59
Total Revenue
2,037.55
7,649.76
7,860.29
6,957.55
Profit After Tax
54.27
87.77
175.06
169.48
Objects of the Issue
The funds raised through the Mrs. Bectors Food IPO are proposed to be utilized towards below objects:
To finance the cost of Rajpura Expansion Project.
To meet general corporate purposes.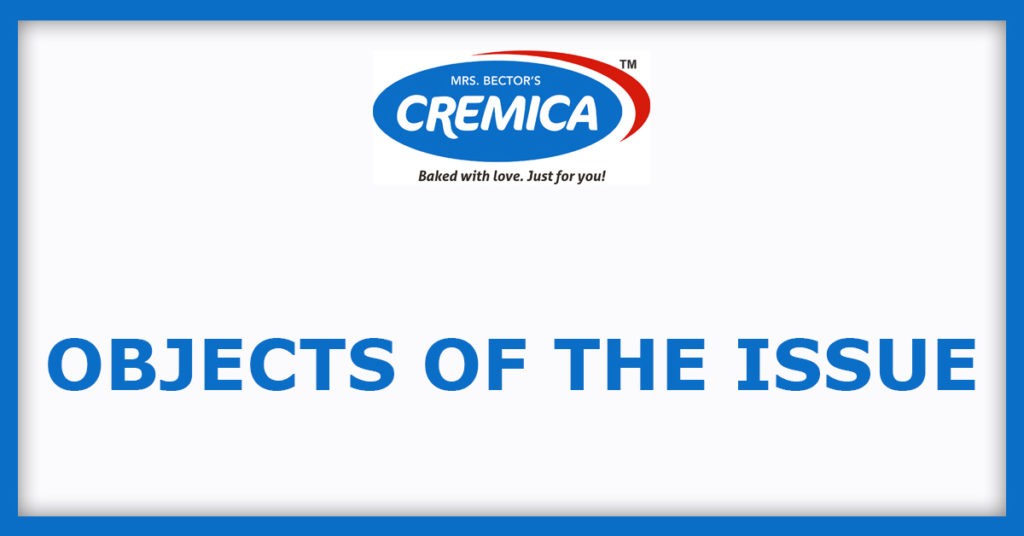 Mrs. Bectors Food IPO Details
IPO Opening Date
15 DECEMBER 2020
IPO Closing Date
17 DECEMBER 2020
Issue Type
Book Built Issue IPO
Face Value
₹10 per equity share
IPO Price
[286] to [288] per equity share
Market Lot
50
Min Order Quantity
50
Listing At
BSE, NSE
Issue Size
[.] Eq Shares of ₹10
(aggregating up to ₹550.00 Cr)
Fresh Issue
[.] Eq Shares of ₹10
(aggregating up to ₹50.00 Cr)
Offer for Sale
[.] Eq Shares of ₹10
(aggregating up to ₹500.00 Cr)
Mrs. Bectors Food IPO Schedule
The Mrs. Bectors Food IPO open date is , and the close date is . The issue may list on Dec 29, 2020.
| | |
| --- | --- |
| IPO Open Date | Dec 15 2020 |
| IPO Close Date | Dec 17 2020 |
| Basis of Allotment Date | Dec 23 2020 |
| Initiation of Refunds | Dec 24 2020 |
| Credit of Shares to Demat Account | Dec 28 2020 |
| IPO Listing Date | Dec 29 2020 |
Mrs. Bector Food IPO Lot Size and Price (Retail)
| Application | Lots | Shares | Amount (Cut-off) |
| --- | --- | --- | --- |
| Minimum | 1 | 50 | ₹14,400 |
| Maximum | 13 | 650 | ₹1,87,200 |
Mrs. Bector Food IPO: How To Apply
Promoters play a very important role in raising much-needed business revenue.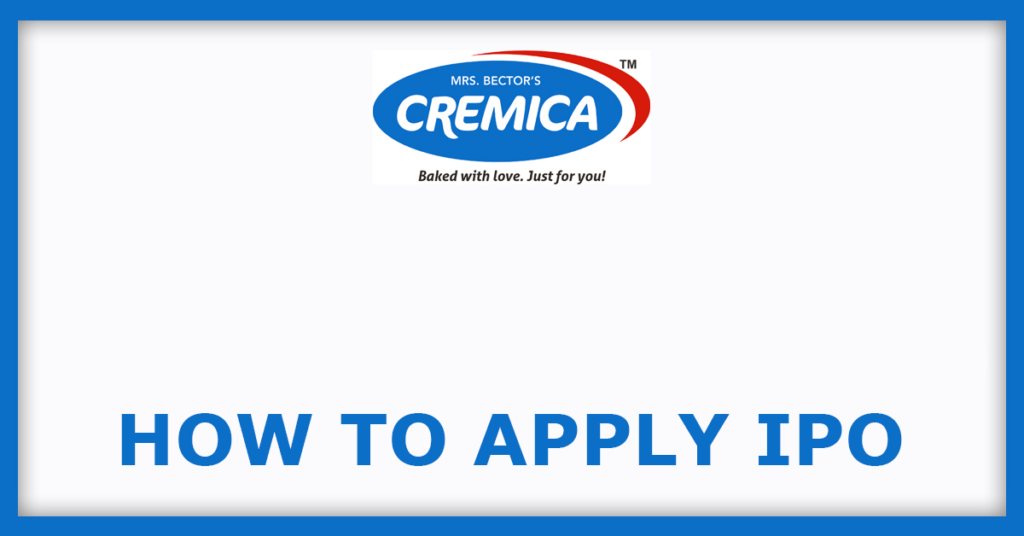 Apply For Mrs. Bector Food IPO Through ASBA
First, you should know what ASBA is. ASBA stands for Restricted Application Support. It is an application by the bank to apply for an IPO.
You apply with ASBA through the bank because initially, the bank covers the cost of purchasing the IPO. This amount is deducted from your account only after receiving IPO share shares in your Demat account.
All the major banks in the country are expanding the ASBA center. There are about 30 banks on the list, some of which are IDBI Bank Limited, Citi Bank, Punjab National Bank, etc.
The center may be expanded once they have been authorized to do so. These banks block the corresponding amount until the IPO allocation process is finalized.
Now, most of you are probably thinking about how to use the Mrs. Bector Food with ASBA. The process can be completed online or offline for your convenience.
Apart from this, you can also bid for an Mrs. Bector Food IPO through your stockbroker's online portal (such as Zerodha, Edelweiss, Motilal Oswal, etc.)
Company Contact Information
Mrs. Bectors Food Specialities Limited
Theing Road, Phillaur
Jalandhar – 144 410
Punjab

Phone: +91 182-6225418
Email: compliance@cremica.in
Website: http://www.cremica.in