Nykaa, which is originated from the Sanskrit term 'Nayaka,' which means actress or one who is in the spotlight, is all about honoring the star in every female and being her confidante and partner as she focuses on her own path to explore her special personality and individual style.
Nykaa is genuinely enthusiastic about contributing to their client's every beauty and wellbeing need, from the biggest range of authentic beauty items from all over the globe to beauty tips. After all, it's their client's Beauty that they're passionate about.
They are a digitally native consumer technology platform, delivering a content-led, lifestyle retail experience to consumers. Since their incorporation in 2012, they have invested both capital and creative energy towards designing a differentiated journey of brand discovery for their consumers.
They manufacture owned brand beauty and personal care products through third-party manufacturers contracted by them. They have entered into manufacturing agreements with several manufacturers in India, for the manufacture of such products which are sold under their owned brands such as "Nykaa Cosmetics", "Nykaa Naturals" and "Kay Beauty".
Nykaa has raised $145.9 million in 12 rounds of funding. Their most recent investment came from a Secondary Market session on November 26, 2020.
It is backed by a group of 15 investors. The most recent lenders are Fidelity Management and Research Company and Alia Bhatt.
It has purchased two businesses. Pipa. Bella was their most recent takeover on April 12th, 2021.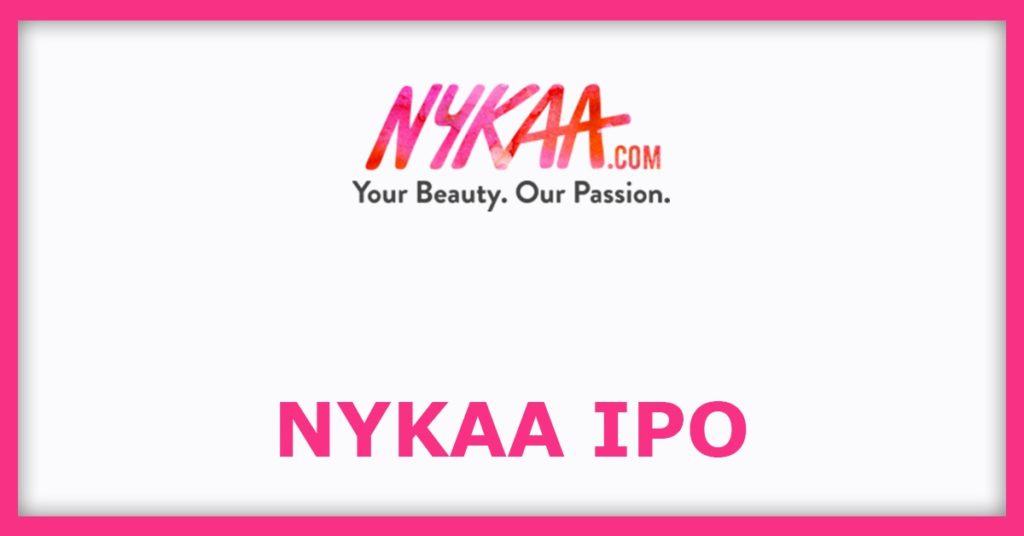 Competitive Strengths
One of India's leading lifestyle-focused consumer technology platform
They are the preferred destination for luxury and prestige products in India for consumers and brands
Resilient, capital-efficient business with a combination of strong growth and profitability
Their proprietary technology stack
A founder-led company supported by a professional management team
Company Promoters
The Promoter of this company is:
FALGUNI NAYAR
SANJAY NAYAR
FALGUNI NAYAR FAMILY TRUST
SANJAY NAYAR FAMILY TRUST
Nykaa IPO Risk
They may not be able to boost revenue if they are unable to attract new customers or do it in a cost-effective manner.
Any damage to their brand or reputation could have a negative impact on their business.
The sale of their own items exposes them to new risks and increases the severity of others.
They operate in an extremely competitive sector, and their inability to compete successfully could affect their bottom line.
Health epidemics, such as the current COVID-19 pandemic, have had and may continue to have a negative impact on their business, activities, and markets.
Changing rules in India may result in new, complex compliance obligations.
Company Financials
Particulars
For the year/period ended ( in Cr.)
31-Mar-21
31-Mar-20
31-Mar-19
Total Assets
1,301.99
1,124.48
775.66
Total Revenue
2,452.64
1,777.85
1,116.38
Profit After Tax
61.95
(16.34)
(24.54)
Objects Of The Issue
Investment in certain of their Subsidiaries, namely, FSN Brands and/or Nykaa Fashion for funding the set-up of new retail stores;
Capital expenditure to be incurred by their Company and investment in certain of their Subsidiaries, namely, Nykaa E-Retail, Nykaa Fashion, and FSN Brands for funding the set-up of new warehouses;
Repayment or prepayment, in full or in part, of certain borrowings availed by their Company and one of their Subsidiaries, namely, Nykaa E-Retail;
Expenditure to enhance the visibility and awareness of their brands; and
General corporate purposes.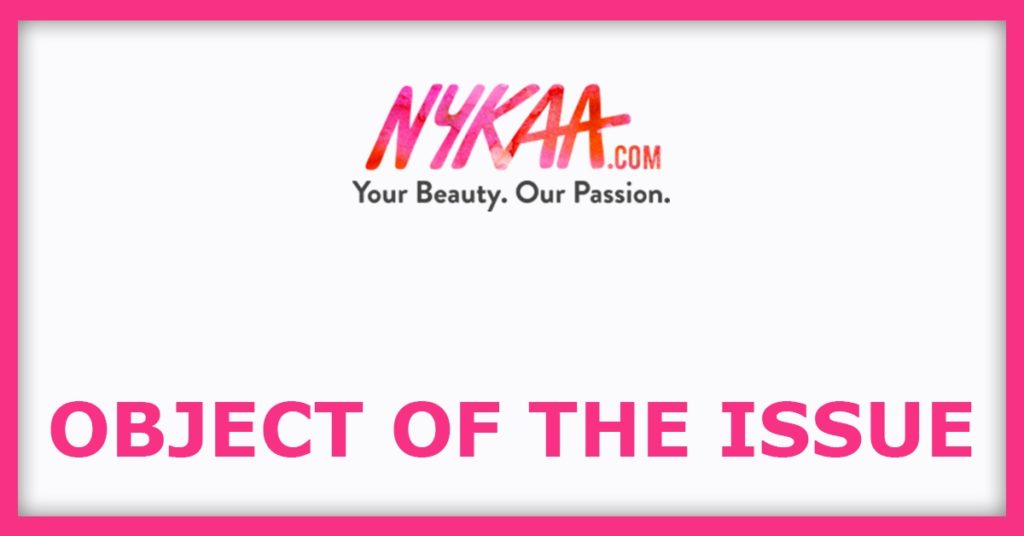 Nykaa IPO – Details
| | |
| --- | --- |
| IPO Opening Date | 28 October 2021 |
| IPO Closing Date | 01 November 2021 |
| Issue Type | Book Built Issue IPO |
| Issue Size | Rs 5,352 Crore |
| Face Value | ₹1 per equity share |
| IPO Price | [1085] To [1125] Per Equity Share |
| Market Lot | 12 Shares |
| Min Order Quantity | 12 Shares |
| Listing At | BSE, NSE |
| Register | LinkInTime India Private Ltd |
Nykaa IPO – Timetable
| | |
| --- | --- |
| IPO Open Date | 28 October 2021 |
| IPO Close Date | 01 November 2021 |
| Basis of Allotment Date | 08 November 2021 |
| Initiation of Refunds | 09 November 2021 |
| Credit of Shares to Demat Account | 10 November 2021 |
| IPO Listing Date | 11 November 2021 |
Nykaa IPO – Lots Size & Price
| | | | |
| --- | --- | --- | --- |
| Application | Lots | Shares | Amount ( Cut-Off) |
| Minimum | 1 | 12 | 13,500 |
| Maximum | 14 | 168 | 1,89,000 |
Promoter Holding
Pre Issue Share Holding
48.05%
Post Issue Share Holding
Company Contact Information
Nykaa IPO Registrar
Link Intime India Private Limited

C-101, 1st Floor, 247 Park
Lal Bahadur Shastri Marg
Vikhroli (West)
Mumbai 400 083, Maharashtra

Telephone: +91 22 4918 6200
E-mail: nykaa.ipo@linkintime.co.in
Website: www.linkintime.co.in
Nykaa IPO Lead Manager(s)
1. Kotak Mahindra Capital Company Limited
2. Morgan Stanley India company Private limited
3. Bofa Securities India Limited
4. Citigroup Global Markets India Private Limited
5. ICICI Securities Limited
6. JM Financial Limited
Nykaa IPO FAQs
When Nykaa IPO will open?

The Nykaa IPO Dates are 28 October 2021 To 01 November 2021.
What is the lot size of Nykaa IPO?

Nykaa IPO lot size and the minimum order quantity is [12 Shares].
How to apply for Nykaa IPO?

You can apply in Nykaa IPO online using either UPI or ASBA as payment method. ASBA IPO application is available in the net banking of your bank account. UPI IPO application is offered by brokers who don't offer banking services.
When is Nykaa IPO listing date?

The Nykaa IPO listing date is announced. The date of Nykaa IPO listing is [11 November 2021].