Compiled in 2006, Latent View provides statistical services such as data and statistics consulting, business statistics and data, advanced forecasting statistics, data engineering, and digital solutions. The company provides services to blue-chip companies in Technology, BFSI, CPG & Retail, Industrials, and other industrial domains. The Company classifies its business into – (i) Consultation Services, which includes an understanding of relevant business styles, challenges, opportunities and the preparation of a data guide and analytical systems that deal with it; (ii) Data engineering, design, design, and application of the data base required for the analysis; (iii) Business statistics, which provide analysis and information to customers to make more accurate, timely and effective decisions; and (iv) Digital solutions for developing companies to automate business processes, predict trends and generate useful information.
The company is present throughout the United States, Europe, and Asia through its subsidiaries in the United States, the Netherlands, Germany, the United Kingdom, and Singapore, with its sales offices in San Jose, London, and Singapore. Latent View has worked with more than 30 Fortune 500 companies in the past three investments and other key customers include Adobe, Uber Technology, and 7-Eleven.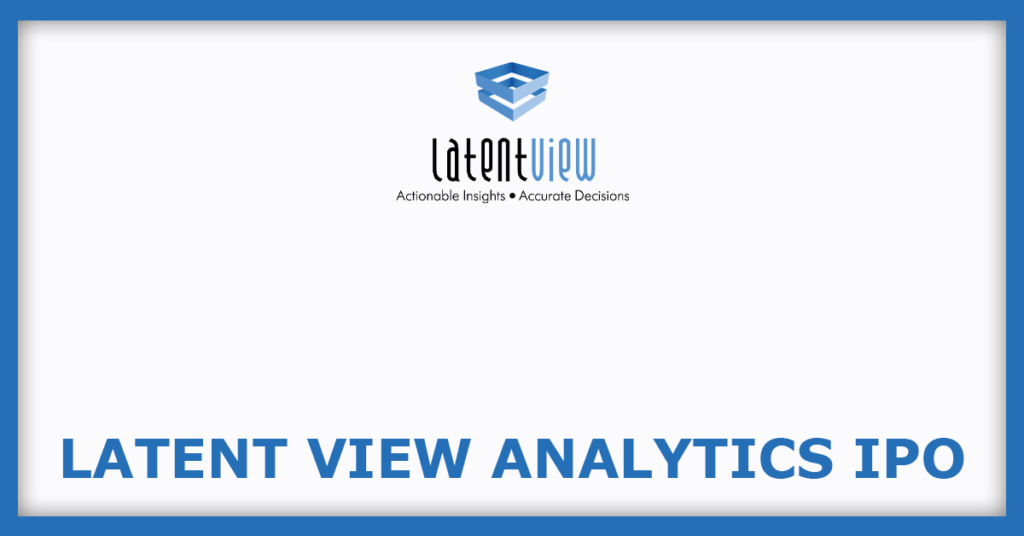 Competitive Strengths
One of the leading pure-play data analytics companies in India
Extensive experience across a range of data and analytics capabilities
Blue-chip clients across industries and geographies
Focus on innovation and R&D
Scalable and attractive financial profile
Strong, experienced leadership team
Company Promoters
Adugudi Viswanathan Venkatraman
Pramadwathi Jandhyala
Company Financials
Particulars
For the year/period ended (₹ in Millions)
31-Mar-21
31-Mar-20
31-Mar-19
Total Assets
5,191.99
3,978.54
3,236.83
Total Revenue
3,267.08
3,296.72
2,959.03
Profit After Tax
914.63
728.45
596.65
Objects Of The Issue
Funding inorganic growth initiatives;
Funding working capital requirements of Latent View Analytics Corporation, company's material subsidiary;
Investment in subsidiaries to augment their capital base for future growth; and
General corporate purposes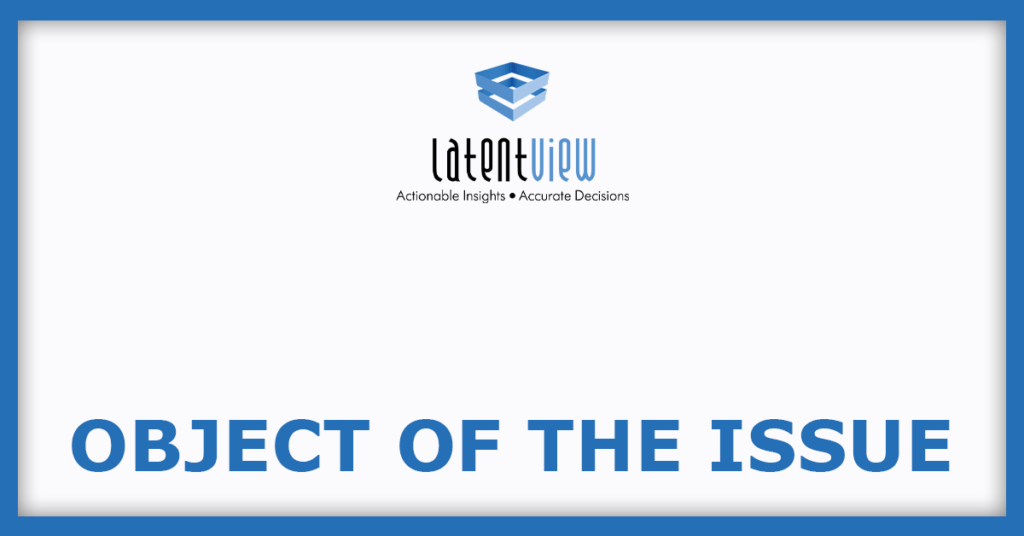 Latent View Analytics IPO Peer Comparison
| | | | |
| --- | --- | --- | --- |
| S. No. | Face Value | Company Name | PE |
| 1 | 2 | Happiest Minds Technologies Limited | 118.02 |
Latent View Analytics IPO Risk
Clients from the United States account for a substantial percentage of their revenue.
The COVID-19 pandemic's long-term impact on their company and operations is unknown.
Since a percentage of their revenues is based in foreign currencies, exchange rate changes may have a negative impact on their results of operations.
In their markets, there is fierce rivalry, and they may lack the financial or other capabilities to sustain or strengthen their competitive position.
They are a multinational firm with risks and unpredictability associated with doing business outside of India.
Their sales efforts take a lot of time and money, and their sales cycles are sometimes protracted and uncertain.
Other Threats
Quarterly changes in our results of operations and key business indicators may create volatility in their results of operations.
Their failure to change our pricing strategies in order to maintain existing clients and attract new ones might hurt their firm.
Their company is the subject of ongoing legal actions. Any negative outcome in such actions might be damaging to their image.
If they can't keep their resource utilisation and production levels up, their profitability will suffer.
Their business might suffer if they are unable to create and maintain an adequate internal controls and regulatory framework.
Latent View Analytics IPO – Details
| | |
| --- | --- |
| IPO Opening Date | 10 November 2021 |
| IPO Closing Date | 12 November 2021 |
| Issue Type | Book Built Issue IPO |
| Issue Size | 600 Crore |
| Face Value | ₹1 per equity share |
| IPO Price | [190] To [197] Per Equity Share |
| Market Lot | 76 Share ( 1 Lot) |
| Min Order Quantity | 76 Share |
| Listing At | BSE, NSE |
| Register | LinkIntime India Private Ltd |
Latent View Analytics IPO – Date Schedule
| | |
| --- | --- |
| IPO Open Date | 10 November 2021 |
| IPO Close Date | 12 November 2021 |
| Basis of Allotment Date | 18 November 2021 |
| Initiation of Refunds | 19 November 2021 |
| Credit of Shares to Demat Account | 22 November 2021 |
| IPO Listing Date | 23 November 2021 |
Latent View Analytics IPO – Lots Size & Price
| | | | |
| --- | --- | --- | --- |
| Application | Lots | Shares | Amount ( Cut-Off) |
| Minimum | 1 | 76 | 14,972 |
| Maximum | 13 | 988 | 1,94,636 |
Promoters Holding
Pre Issue Share Holding
79.30%
Post Issue Share Holding
Latent View Analytics IPO Prospectus
Company Contact Information
Latent View Analytics Limited

5th Floor, Neville Tower, Unit 6,7 and 8,
Ramanujan IT City, Rajiv Gandhi Salai, Taramani,
Chennai- 600113, Tamil Nadu, India

Phone: +91 044 4344 1700
Email: investorcare@latentview.com
Website: https://www.latentview.com/
Latent View Analytics IPO Registrar
Link Intime India Private Limited
C 101, 1st Floor, 247 Park
L.B.S. Marg, Vikhroli (West)
Mumbai – 400 083
Telephone
: +91 22 4918 6200
E-mail
: latentview.ipo@linkintime.co.in
Website
: www.linkintime.co.in
Latent View Analytics IPO Lead Manager(s)
1. Axis Capital Limited
2. ICICI Securities Limited
3. Haitong Securities India Private Limited
Latent View Analytics IPO FAQs
When Latent View Analytics IPO will open?

The Latent View Analytics IPO dates are 10 November 2021 To 12 November 2021.
What is the lot size of Latent View Analytics IPO?

Latent View Analytics IPO lot size and the minimum order quantity is [76 Shares].
How to apply for Latent View Analytics IPO?

You can apply in Latent View Analytics IPO online using either UPI or ASBA as payment method. ASBA IPO application is available in the net banking of your bank account. UPI IPO application is offered by brokers who don't offer banking services.
When is Latent View Analytics IPO listing date?

The Latent View Analytics IPO listing date is announced. The date of Latent View Analytics IPO listing is [23 November 2021].