Policybazaar, their flagship platform, in 2008 to respond to Consumers' need for more awareness, choice, and transparency and create a consumer-pull-based, provider-neutral model for insurance distribution.
In 2014, they launched Paisabazaar with the goal to transform how Indians access personal credit by accentuating ease, convenience, and transparency in selecting a variety of personal loans and credit cards.
According to Frost & Sullivan, in Fiscal 2020, Policybazaar was India's largest digital insurance marketplace with a 93.4% market share based on the number of policies sold. Furthermore, in Fiscal 2020, 65.3% of all digital insurance sales in India by volume was transacted through Policybazaar.
Their Policybazaar and Paisabazaar platform offerings address the large and highly underpenetrated online insurance and lending markets. They have an asset-light capital strategy and do not underwrite any insurance or retain any credit risk on their books. Policybazaar is registered with and regulated by IRDAI as a direct (life and general) insurance broker.
They have built India's largest online platform for insurance and lending products leveraging the power of technology, data, and innovation, according to Frost & Sullivan.
They provide convenient access to insurance, credit, and other financial products and aim to create awareness amongst Indian households about the financial impact of death, disease, and damage. Through their consumer-centric approach, they seek to enable online research-based purchases of insurance and lending products and increase transparency, which enables consumers to make informed choices.
Policy Bazaar IPO Review
Policy Bazaar IPO is Good or bad, it totally depends on your view. It is a company which you should subscribe to for the long term only. If you are interested only in listing gain then you might face volatility.
We will advise only risk taking traders to apply for listing gain or people who are not willing to take risk should avoid this IPO for listing gain.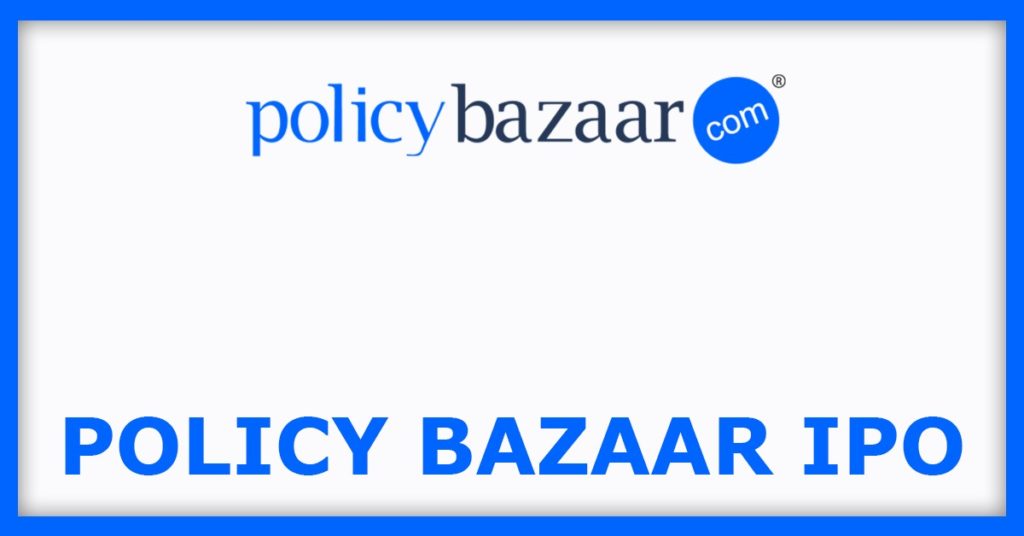 Competitive Strengths
The company has created strong, consumer-friendly brands offering wide choice, transparency and convenience.
The company's proprietary technology stack helps it design user-friendly consumer journeys across all of processes by automating various aspects across the product value chain.
It is a collaborative partner for insurer and lending partners.
Policybazaar and Paisabazaar platforms have large, efficient and intelligent networks, providing consumers with the ability to browse financial services products offered by 51 insurer partners and 54 lending partners.
Its high renewal rates are providing clear visibility into future business and delivering superior economics.
Policybazaar and Paisabazaar platforms serve consumers with varied needs, credit profiles, demographics, employment types and income levels. Micro-segmentation has helped grow the product offerings on platforms, streamline transaction processes, deepen partnerships with insurer and lending partners, and offer tailor-made financial services solutions for varied segments.
It has capital efficient model with low operating costs.
Its founders have a deep understanding of consumers' pain points and the structural problems in the insurance and financial services industry. They each have almost two decades of experience and commitment to solve those problems, along with a deep understanding of consumer insights and technology.
Financial Summary
Particulars
For the year/period ended (₹ in millions)
31 Mar 21
31 Mar 20
31 Mar 19
Total Assets
23,307.26
15,759.99
7,514.48
*Total Revenue
9,574.13
8,555.63
5,288.07
Total Expense
10,993.27
11,504.04
8,662.37
Profit After Tax
(1,502.42)
(3,040.29)
(3,468.11)
Objects Of The Issue
Enhancing visibility and awareness of their brands, including but not limited to "Policybazaar" and "Paisabazaar";
New opportunities to expand their Consumer base including their offline presence;
Strategic investments and acquisitions;
Expanding their presence outside India; and
General corporate purposes.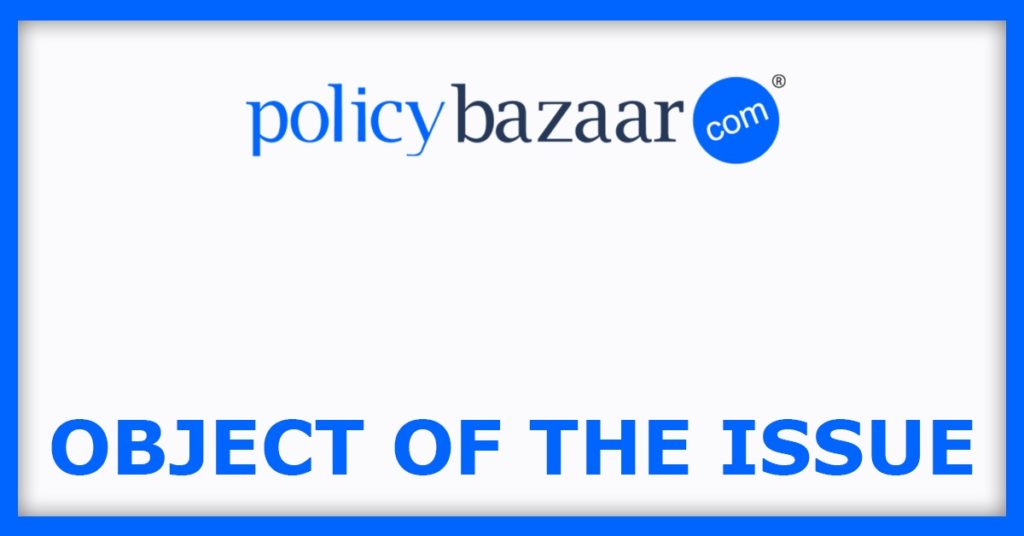 Policy Bazaar IPO – Details
| | |
| --- | --- |
| IPO Opening Date | 01 November 2021 |
| IPO Closing Date | 03 November 2021 |
| Issue Type | Book Built Issue IPO |
| Issue Size | Rs 5708.64 Crore |
| Face Value | ₹2 per equity share |
| IPO Price | ₹940-980 Per Equity Share |
| Market Lot | 15 Shares (1 Lot0 |
| Min Order Quantity | 15 Shares |
| Listing At | BSE, NSE |
| Register | LinkInTime India Private Ltd |
Policy Bazaar IPO – Date Schedule
| | |
| --- | --- |
| IPO Open Date | 01 November 2021 |
| IPO Close Date | 03 November 2021 |
| Basis of Allotment Date | 10 November 2021 |
| Initiation of Refunds | 11 November 2021 |
| Credit of Shares to Demat Account | 12 November 2021 |
| IPO Listing Date | 15 November 2021 |
Policy Bazaar IPO – Tentative Lots Size & Price
| | | | |
| --- | --- | --- | --- |
| Application | Lots | Shares | Amount ( Cut-Off) |
| Minimum | 1 | 15 | 14,700 |
| Maximum | 13 | 195 | 1,91,100 |
Company Contact Information
Policy Bazaar IPO Registrar
Policy Bazaar IPO Lead Manager(s)
1. Kotak Mahindra Capital Company Limited
2. Morgan Stanley India Company Private Limited
3. Citigroup Global Markets India Private Limited
4. ICICI Securities Limited, HDFC Bank Limited
5. IIFL Securities Limited
6. Jefferies India Private Limited
7. HDFC Bank Limited
Policy Bazaar IPO FAQs
When Policy Bazaar IPO will open?

The Policy Bazaar IPO dates are 01 November 2021 To 03 November 2021.
What is the lot size of Policy Bazaar IPO?

Policy Bazaar IPO lot size and the minimum order quantity is 15 Shares.
How to apply for Policy Bazaar IPO?

You can apply in Policy Bazaar IPO online using either UPI or ASBA as payment method. ASBA IPO application is available in the net banking of your bank account. UPI IPO application is offered by brokers who don't offer banking services.
When is Policy Bazaar IPO listing date?

The Policy Bazaar IPO listing date is announced. The date of Policy Bazaar IPO listing is [15 November 2021].